We all carry burdens with us as we move forward on our life's journey, and I've recently realized that I have many unresolved issues in regards to Ryan Reynolds.
It has nothing to do with taking Scarlett Johannson off the market--he can have her. Nevertheless, my issues with Reynolds are manifold:
1. First, I had a screenplay in mind a while back that Reynolds would have been perfect for, but I never finished it and shortly afterwards his star really took off. So that's annoying.
2. He ditched Alanis Morissette, and her music seems pretty angry to me. What did he do to her? I bet it wasn't nice.
3. I am highly distrustful of his admittedly impressive trifecta of comic timing, perfect hair, and abs. You can be funny or you can have abs, but you can't have both. And he always shows them off in movies, which is annoying. They tell you to turn off your cell phone in the movie--can they also tell Reynolds to sheathe his abs?
I'll record the voiceover myself: "Please, be considerate of other patrons and keep your shirt on for the duration of this movie. If you cannot comply, the usher will be by to kick you all the way back to Two Guys, a Girl, and a Pizza Place."
And finally, he's got the same problem that Jude Law did a while back: he's everywhere. In fact, it's possible that he's stalking me. I've seen several movies lately, and he's been in all of them.
The Proposition. First, you may be asking me why I saw a Sandra Bullock romantic comedy. The answer is simple: shut up. But you know, it could have been kind of good the way the first Miss Congeniality was. Sandra Bullock is more naturally funny than the raptor-like Julia Roberts. But no--the experience of watching this movie made me long for the sweet, simple pleasures of a sucking chest wound.
Adventureland. The main stars of this indie coming-of-age story are Jesse Eisenberg (recently in Zombieland) and Kristen Stewart from the Twilight movies. Reynolds has such a small part that I can only assume he took the role specifically to annoy me.
The Nines. Reynolds is the star of this movie from writer/director John August, and I liked it quite a lot. I suspect most people will have issues with the confusing story construction and the completely over-the-top ending, but John August, who wrote the brilliant Go, didn't bore me once and brought his trademarked snappy dialogue, and so I enlist myself as this movie's personal bodyguard. Reynolds, however, takes off his shirt.
And finally, I got a chance to see Avatar. You never know what you're going to get with these CGI movies, but all I was hoping for was a little freedom from the burdens I carry in my everyday life. Instead? It was a lightning-fast frame of the film, but in the background of one of the Na'vi scenes, I could clearly see: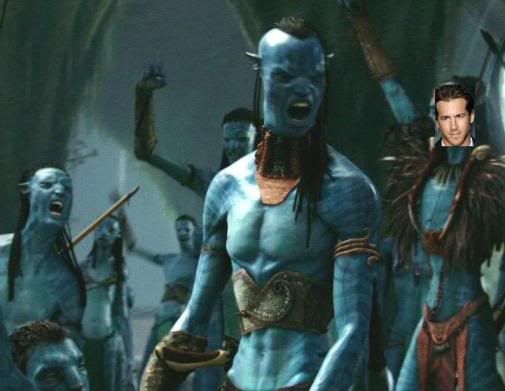 I'm as creeped out as you are.

Posted by Greg at 06:55 PM on 12/27/09