The first annual San Francisco Superhero Street Fair styled itself as a way of giving back to the true heroes of the city--such as firemen, policemen, and local citizens that have done good work. I can shenanigans on that; it was just an excuse for a big dance party with questionable music and even more questionable costumes: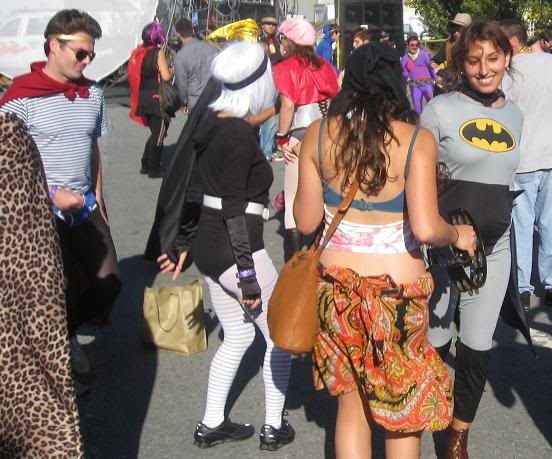 Still, I did learn a few things. For example, at one point Wonder Woman apparently said "What the hell" and broke down and got a tat: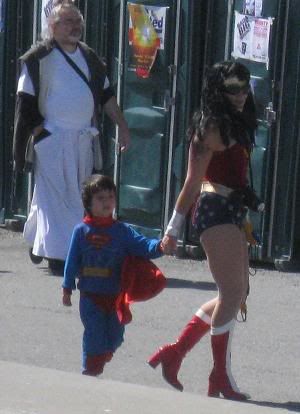 I was also surprised at the age difference between her and Superman. One of Wonder Woman's most fearsome enemies is known as the Cheetah, but who knew that WW herself was a Cougar?
I also learned not to mess with my friend Backhanded Compliment Man: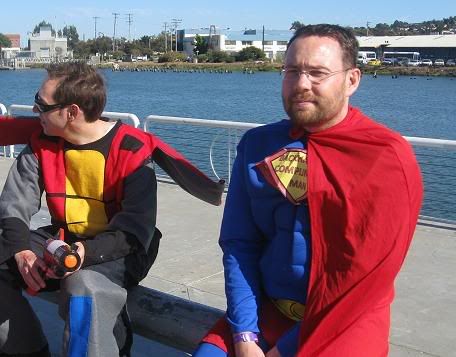 At one point, an older gentleman said to him "I sort of like your outfit." Backhanded Compliment Man shot back: "And I'm excited to see you out on a Saturday night. My dad never stays up this late." Damn.
And, finally, I learned that the renowned heroine Cherry Popper doesn't do a lot of crimefighting, but nevertheless performs a valuable public service: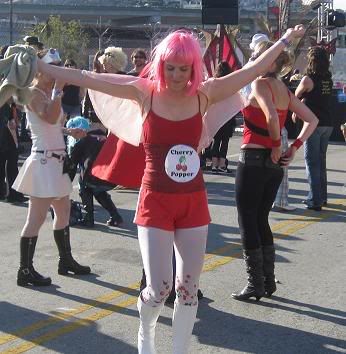 San Francisco needs another street festival like Sarah Palin needs another ethics probe, so I don't know if this particular expedition merits a return trip next year. However, I can safely say that if it does, it will have a bunch of music, weird people, and costumes. You know--like every other street festival in the Bay Area.
Posted by Greg at 04:43 PM on 07/26/09